Eugene being Eugene, it's a wonder Autzen Stadium ever got built.
Hayward Field, circa 1930s (U of O Digital Archives)
Hayward Field by the early '60s was a wreck. The oldest stadium in the conference that hadn't been significantly rebuilt at some point, it was cramped, uncomfortable, and small. About the only thing you could say good about it was that it was in Eugene, and most of the seats were covered.
Leo HarrisOregon's Athletic Director, Leo Harris, didn't mince words.
"It's the poorest spectator facility of any major football school.. When we play a game in Eugene, after we take care of the students, faculty and press, we can sell only 9000 more seats and that includes season tickets…
"When we bring prospective student athletes to Eugene we attempt to avoid allowing them to see Hayward Field."
And Harris was tired of dragging his team north to Portland three times a year to play in the larger, but still outdated, Municipal Stadium (now known as Jeld-Wen Field Providence Park, and home of the Timbers). But Washington and the California schools insisted on playing in front of the bigger gate, with lower travel costs and more readily available lodging. Hayward was relegated to games against the likes of Idaho, WSU, San Jose State, and the annual Civil War with Oregon State. Even with the completion of the Pacific Freeway, aka Interstate 5, between Eugene and Portland, it was an expensive two-hour-each-way trip for the Ducks, two or three times each season.
Leo didn't want his legacy left in the baked bleachers and splintered seating at the corner of 15th and Agate, or limited to a lucky friendship with Walt Disney that resulted in a unique mascot. He envisioned a replacement stadium, to be built on a section of a 500-acre tract of undeveloped land north of the Willamette River, part of which was on a closed landfill called Day Island. Local government agencies, the UO and EWEB were cooperating to develop a large-scale city park stretching from the Ferry Street Bridge all the way to the new Pacific Freeway (aka I-5). There was support for making a new stadium one of the centerpieces of the park.
So it came to pass that Harris asked his friend Marcus Bessonette, a contractor from Medford, to study stadium designs around the country and come up with a workable plan for a stadium in the North Bank Park. Bessonette, who had designed a stadium at Medford High, told Harris that construction cost could be reduced by grading a "bowl" out of the bare land, dumping tons of infill around the bowl, then building concrete superstructures above the dirt. It was an inexpensive and fast way to build a stadium, and the construction technique itself dated back to Greek and Roman amphitheaters. More recently, the method had been used to varying degrees in erection of the Los Angeles Memorial Coliseum, Green Bay's Lambeau Field, the Sun Bowl in El Paso, Falcon Stadium at the Air Force academy in Colorado Springs, and Oakland-Alameda County Stadium.
Eugene Register-Guard, Feb 16 1961Harris had his first design by early 1961, and although it was a bit odd, with drive-in endzone parking, it was a starting point. And Leo figured the stadium could be built for around $2 million – chump change, in an era of cantilevered steel-frame stadiums running into eight figures.
With cooperation, Harris thought the Ducks could be kicking off in the new stadium by 1965. This was important, because in the early 60s, Oregon involuntarily became a "Western Independent" following the scandal-ridden demise of the PCC in 1958, which led to the formation of the AAWU – the four big California schools plus Washington. The other Northwest schools weren't invited. Oregon desperately wanted back into the big-boy conference.. but the California schools insisted on bigger cuts of the gate, which meant Oregon would need a bigger stadium.
But Harris had the misfortune of working in Eugene, where, then as now, it seems there has never been a proposal for anything substantial that has not been "processed" and "studied" within an inch of its life.
Worse, in mid-1961, he lost a supportive UO president, Meredith Wilson, to Minnesota. Wilson had been instrumental in approving the purchase of the 93 acres to be used for the stadium (for $90,000, in 1959), and had backed Harris by approving plans, surveys and traffic studies along with model development.
Wilson's replacement, Arthur Flemming, was coming off a term as Eisenhower's HEW secretary, had no experience in administration of a university of Oregon's size and scope, not to mention one with a top-level football team, and was a bit of a demagogue.
Arthur S. Flemming, UO Pres 1961-68Flemming didn't think Harris could pull off the funding for a new stadium off-campus, and thought Harris had pulled that $2 million figure out of his hat. And for a long time, it seemed Flemming did everything he could to ensure he would be right. After dancing around the issue for a couple of years, in 1963 he commissioned a study by the national architecture firm Skidmore, Owings & Merrell (SOM), who had recently completed Portland's Memorial Coliseum.
SOM was asked to evaluate three options – a new stadium at a new location, a new stadium on the current Hayward Field site, or the possibility of expansion and retrofitting the current Hayward grandstands to modern standards. Each option was expected to carry 35-40,000 seats.
Flemming received the report from SOM.. and sat on it. When asked of its status, he would only tell reporters that the study was "incomplete."
By late September of '63, Harris was growing impatient with his boss. Nothing had happened in two years. "There is no good reason that I can see why the stadium plans cannot be started right now," he told the Portland Duck Club.
Dr. Wilson virtually promised the alumni and Eugene merchants that an adequate football facility would be constructed in the near future. I know President Flemming is a busy man..

A functional stadium.. would cost between $1.5 and $2 million. Nothing fancy, maybe not even finished on the outside. You can make it a monument later.
Finally, under pressure from the media and an increasingly irritated Harris, Flemming released the SOM study. It wasn't hard to see why he'd hidden it: The report strongly recommended the North Bank site for a new stadium as the only feasible option, considering traffic demands, cost, and facility requirements.
Hayward Field simply wasn't an option, the report concluded. It hadn't been built to code in the first place, and there was no way the city of Eugene would permit it to be expanded. There was no room to build a larger stadium at the current site without encroaching on campus space; even if there had been room, the surrounding streets couldn't handle the traffic and parking that would be required.
***
An experienced politician, Flemming shifted his position with the release of the SOM report. He now "fully favored" the North Bank site – provided it would become a "cooperative venture" with the city of Eugene and Lane County. "Cooperative venture" is administrative code for monetary support through taxation. The UO couldn't legally float a bond issue to support a capital development — but the city or county could. Flemming still didn't think Harris could pull off the funding, and he didn't want the UO on the hook for the whole project. But he didn't want it to look like he was the roadblock.
Meanwhile, the Eugene Chamber of Commerce, giddy over the possibility of getting all of Oregon's home games in Eugene along with the obvious economic benefits, got behind the concept of a joint funding venture for the stadium in late 1964, suggesting the City put up $1M via a bond issue. The lone dissenting vote was from Alton Baker, publisher of the Register-Guard, and for whom the North Bank park would eventually be named.
"I question the wisdom of taxing the Eugene taxpayer for five football games a year," Baker said. "I frankly can't see why the UO can't go to the alumni and raise $1,600,000 instead of $600,000." The City Council eventually agreed with Baker, declining to endorse a bond issue; but by this point Harris had finally convinced Flemming the project could be funded solely through existing university funds, donations and sponsor pledges.
While Baker was raising doubts about the funding, others continued questioning the site itself. In mid-1965, amid the fundraising project, the Lane County leaders made their doubts public. Commissioner Frank Elliott, a self-proclaimed land use expert, after studying an aerial photograph of the site, said "there just isn't room here for a stadium and sufficient parking too. I know the university will need at least 40 more acres." Commissioner Jess Hill proposed relocating the stadium to a site near the I-5/Belt Line intersection. Commissioner Ken Nielsen, apparently unable to read or understand the very strongly worded and well-researched SOM report, continued to suggest a new stadium at Hayward Field might be practical.
Alton Baker still wasn't on board. And the R-G routinely ran editorials questioning the veracity of the site process.
".. Careful studies must now be made to insure that all questions relating to this project are properly answered," one such editorial tut-tutted. "It would be sheer folly to plunge ahead before it is determined if there aren't other sites better suited for a football stadium, sites which would not involve million-dollar-plus outlays for entrance and exit roads." The R-G editorial staff apparently was under the impression that students couldn't bother figuring out how to get from the campus to the stadium, that they'd all be driving – despite the minor detail that many students living on campus didn't have cars.
Other potential sites were suggested. A Eugene lumberman, Henry Eaton, suggested putting the stadium six miles from campus, out West 11th near Danebo Road, on a 125-acre site that he conveniently happened to own; the site would have "excellent access when several planned roads are constructed." (One of these "planned" roads was the West Eugene Parkway, in the planning stages for almost 40 years before it was voted down for good in the mid-2000s.)
And, because some things have never changed, a vocal minority of campus faculty and associates continued to rail on the entire concept of intercollegiate athletics. An English prof, James Hall, said athletes "depress the intellectual level of the classroom."
***
Prof. Ray EllicksonThe endless kerfluffle incensed Prof. Ray Ellickson, Oregon's faculty athletics representative. In a 1966 speech to the Oregon Assembly, he pointed out that the very existence of the North Bank Park could be traced to the stadium project:
I was a member of the Eugene planning commission a few years ago.. Howard Buford, the director, came to us with a serious problem. The state had 90 acres in what is now the North Bank Park and was about to put that land on the market. If it were sold to commercial interests, it would be no time at all before the land would be built up and making a park there would be prohibitively expensive. On the other hand, if this one parcel could be held out for non-commercial use, perhaps the city and county could be persuaded to buy up the surrounding acreage.

It had to be done in a hurry, and in just a few days, 'Met' Wilson agreed to use of Athletic Department funds to buy the land. I think no one familiar with that bit of history doubts for a moment that there would be no North Bank Park today without Buford's alertness, the cooperation of the university, and the use of Athletic Department funds.

The suggestion now that the Athletic Department not be allowed to use the land seems to me to come with a bit of ill grace."
And Leo Harris was starting to get irritated. In an interview published in Oregon's Daily Emerald, he railed at the intracticality of student leaders, who were saying attendance wasn't important:
By 1967, if Hayward is still used, its stands will only have room for students, donors and faculty for [its] two games.. You can't make money that way. Unless we have the new stadium by 1967 only Oregon State and Idaho will play here. Even Colorado won't play except in Multnomah Stadium."
Undaunted, Harris launched a capital campaign to raise $1 million in November 1965. It went over the top in less than five months.
But time was wasting. Finally, on March 22, 1966, the county commissioners told the local planning commission they had no intention of trying to change the stadium's location. Someone had finally gotten them to understand that all the money that had been pledged for the stadium was conditioned on the use of the North Bank site and on completion of the stadium for the 1967 season.
Eugene Register-Guard, 5 May 1966By May, there were tractors and backhoes and graders performing site preparation, even as frantic fundraising continued. President Flemming finally got back on Leo Harris's good side by personally spearheading a last-ditch effort in the summer of 1966 to squeeze every last dollar out of Portland alumni.
Flemming's crowning acheivement for the stadium project was convincing Thomas E. Autzen, of Portland's Autzen Foundation, to pledge the last $250K required to get the funding project completed, in exchange for putting the name of his father, Thomas J. Autzen, on the stadium.
(Although Thomas J. Autzen was in fact a graduate of OSC, Thomas E. Autzen had attended Oregon in the 1930s, the school took pains to note.)
***
With funding in place, on July 7, 1966, Oregon's State Board of Higher Education signed off on the project. Leo Harris would have his new stadium, albeit one that would bear scant resemblance to his original concept: SOM was retained to provide the final stadium architecture. But the initial concept of a sunken bowl and concrete-over-infill construction was retained.
There would be contractor problems, weather difficulties, and the usual last-minute frenzy of activity involved with any large project at a deadline. But on September 16, 1967 – one week before the home opener against Colorado – the university received the keys to its new toy.
Autzen Stadium, early September 1967
The final cost: $2.35 million, remarkably close to the Harris estimate six years earlier. Autzen Stadium contained 13,000 cubic yards of concrete, held seating made of 130,000 board feet of Port Orford cedar – cut from a special stand near Coos Bay – and had 82,000 hot-branded seat numbers and hash marks to define the individual seats. Two acres of stadium turf was planted on a site near the UO physical plant in late 1966, and was transplanted to the stadium bowl after interior work was complete. A set of 135' glue-lam wood beams supported a roof over the "sponsors" section, which in turn supported a series of radiant heaters to warm the well-heeled donors.
The only restrooms for public use were in the stairwells at each end zone, behind the sponsors section and under the press box; additional facilities being deemed among several "extras" that would be added "at a later date." (One of those "extras" – an iron pipe fence around the top of the rim, to keep fans from accidentally stumbling over the edge and tumbling down the 50 degree berm to the parking lot – was added after the Colorado game; the "extra" fence was declared a code violation, requiring immediate remediation.) The parking lot had 8,400 graveled spaces; asphalt was promised "at a later date" that never came.
Some of the cost-driven design compromises were obvious. Single aisles stretching from rim to field level between every section were used in lieu of more convenient crossing aisles with tunnels and convenient facilities. It would be a strenuous journey to the concession stands and toilets for those with seats in the lower areas of the bowl, something most Duck fans have managed to live with for decades. Using wooden seat boards for all but the pricey sponsor section dropped the seating cost considerably, but tended to warp and splinter. The original press box, on the north edge of the rim, had no awning or other means to block direct autumn sunlight, a poor bit of ergonomic design regularly decried by sportswriters.
The locker rooms were notoriously cramped and dank, with constant sewage control issues thanks to their location below ground level that would eventually require a surcharge on tickets to finance a redesign in the early '80s. There were no on-site meeting facilities until the 1981 addition of the Stadium Club at the east end. The footbridge for those car-deprived students wasn't completed until 1970. And long rows of portable toilets lined the rim every game day until the 2002 expansion.
Still, that an aesthetically pleasing stadium could be constructed for just over $2.3 million, even in the 1960s, without a dollar of public funding, was remarkable. Woody Hayes, who brought his Ohio State team to Autzen later in '67 on what was called "Dedication Day," was impressed. "I still can't believe how you people can build a stadium so beautiful, yet so fast and economically. I just wish the people in Columbus could see this."
Civil War tailgaters, 1967
***
Having secured his legacy, in January of 1967, Leo Harris, Oregon's first and arguably greatest athletic director, resigned the position he'd held for 20 years. His friend and head coach, Len Casanova, was developing health problems and didn't think he could handle another season on the sideline. Leo's resignation allowed Cas to slide into the AD chair, and longtime Cas assistant Jerry Frei was elevated to head coach for the first season at Autzen.
Harris, who played tackle at Stanford under Glenn "Pop" Warner in 1925-26 and was a long-time member of the NCAA Football Rules Committee, died in 1990 in Monterey, California at the age of 85.
His name's not on the stadium, but every passenger vehicle entering the grounds of Autzen does so via the Leo Harris Parkway; and the stadium owes its existence and configuration to Leo's business acumen, foresight and tenacity.
Autzen Stadium, 22 Sept 1967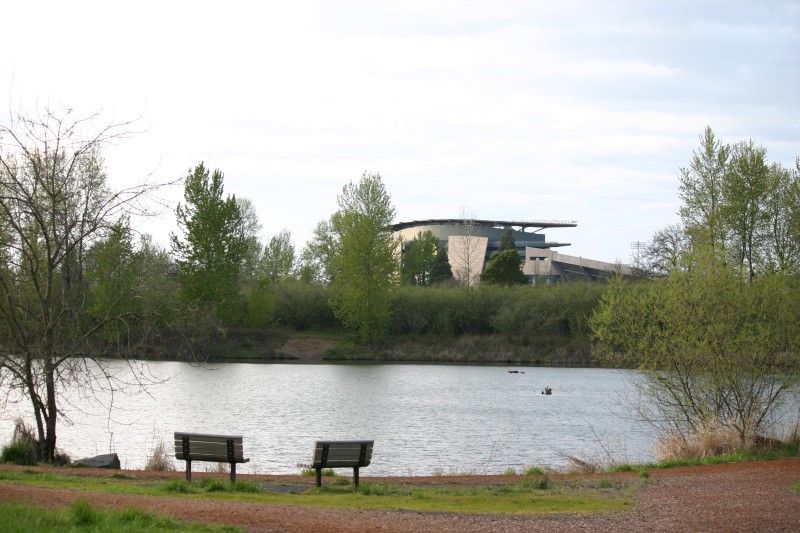 Alton Baker Pond and Autzen Stadium, 2007 (photo courtesy EugeneOutdoors.com)
Oregonian editorial, 7 October 1964, "Inadequate Stadium": (emphasis added)
We cannot see how the Washington game could be switched to Eugene without seriously hurting the gate receipts. It is not only the rivalry between the University of Washington and the Oregon schools that makes the contests here and in Seattle so popular. There is inter-city rivalry, as well. We doubt Washingtonians would travel so enthusiastically to Eugene or Corvallis as they do to Portland. The smaller cities would be hard put to house them if they did.
Yes. The failure of Washingtonians to come through has really hurt the gate receipts over the years.
tagged

Autzen Stadium,

Leo Harris
in

1960s,

Heroes,

Perspective