November, 1971: Two games determine the fate of a program for decades.
In the autumn of 1971, green fees at Pebble Beach were $20, gas to get there was 50 cents a gallon, and a fifth of Seagrams VO would set you back $7.85 (Oregon had the highest liquor prices in the nation). The wealthiest American, John Paul Getty, had a net worth of $2 billion. Stylish young men frequented a downtown clothier called The Gay Blade. Either you smoked ($3.99 for a carton of Marlboros) or your parents smoked or your grandparents were smokers, telephones had dials, you either drove an American car or patiently explained why you didn't, and Oregon's football fortunes were improving.
Autzen Stadium was in its fifth year. The kinks were being worked out on Centennial Boulevard. The grassy mud pit that resulted from rolling out Instant Lawn in a sunken bowl in 1967 had been replaced with something resembling quality green carpet. Although there still weren't a lot of working toilets, the athletic department was finally able to round up enough HoneyBuckets to satisfy most of the fans, given attendance was rarely close to capacity. It is believed that the game against San Jose State (Ducks, 34-14) was played to the emptiest stadium in the five-year history of Autzen, with only about 14,000 paid attendees.
Up the road, the campus at OSU was still in turmoil over a demand in 1969 by famously rotund coach Dee Andros that one of his black players (Fred Milton) show some respect and shave that damn beard off his chin (a demand not made of the white players). Milton said, in short, "Up yours, cracker!", and Andros kicked him off the team. This did not sit well with the members of the Black Student Union, who organized a general boycott. Andros had trouble recruiting black players for years afterwards. Since Corvallis wasn't exactly Tuscaloosa in those days, that didn't bode well for the future.. and Andros was on his way to the first of what would be 26 consecutive losing seasons for the Beavers.
Bobby Moore, Dan Fouts and Tom Graham, 1971
As a progressive and sensitive, if 99% white, community, Eugene welcomed its black student athletes with open arms, especially if they could perform adequately on the field. In 1971 the Ducks had plenty of athletes of all shades. Hall of Famer Dan Fouts, All-American tailback Bobby Moore (aka famous softball pitcher Ahmad Rashad), Leland Glass, Tom Graham, All-American and future All-Pro guard Tom Drougas, Greg Specht, future Lane County Commissioner Bobby Green, and Wesley Mallard's spiritual ancestor Bill Drake. All excellent athletes who could start for most teams in the Pac-8.
Oregon's main problem of this era was that, although they could recruit good players, they couldn't recruit enough of them, and had to fill the roster with a lot of in-state players. These young athletes were, relatively speaking, about as good then as they are now. Thus, the two-deep was more like a two-shallow.
And the talent was all in the skill positions; other than Tom Drougas, there wasn't an all-conference caliber player on either line.

Game 1 - Cal 17, Ducks 10
With two games left in the '71 season, the Ducks stood at 5-4, including brutal road paycheck-game losses to eventual national champion Nebraska and Texas. They had the Pac-8's leading rusher in Moore, the leading receiver in Glass, were coming off an upset win on the road against Air Force, and had their last two games at home. Beat Cal, at 4-5 but on probation, and OSU, and at 7-4, you're not going to the Rose Bowl (the only option available at the time), and Moore's going to the NFL, but you have the best record in eight years, with good momentum and lots of talent coming back for Dan Fouts' senior year.
That was the plan, anyway. But one of those in-state kids who got away helped do in the Ducks on a dreary November afternoon. Cal's Steve Kemnitzer, a fullback from Klamath Falls, ran over the depleted and undersized Oregon defensive front, on seven straight plays late in the game starting at the Duck 28 yard line after a Bobby Moore fumble. Cal punched in the winning touchdown from the 4 with just 10 seconds left. Oregon lost, 17-10.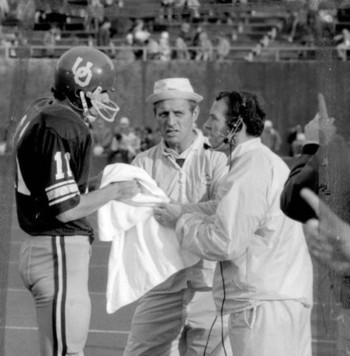 Dan Fouts, Jerry Frei, Bruce Snyder, and a towel, 1971The AstroTurf installed in 1969 had a reputation for becoming a skating rink in cold and wet conditions. That day, it was very cold, and very wet. Oregon's turf cleats couldn't get traction; players lost footing, fumbled, and complained. Fouts blamed the conditions and turf for his performance; he spent much of the game stumbling on his drops, hurrying passes, or being chased by future pro Sherman White, who had some epic battles with Drougas. "That Astro-Turf gets soggy and it lays right down.. They couldn't get any traction," Fouts griped. (Of course, Cal was playing on the same field, but as a Bay Area native Fouts probably understood something about wet and cold conditions.)

Game 2 — Beavers 30, Ducks 29
So, at 5-5, Oregon faced 4-6 OSU in the Civil War, a game they hadn't won since Mel Renfro was playing. Seven straight years of eating the dust of Tommy Prothro and Dee Andros.
With all the reasonable successes the team had — and coach Jerry Frei had made progress each of his previous four seasons, going 6-4-1 in 1970 — one thing hadn't changed. In the state of Oregon, winning the Civil War was The Only Thing That Mattered. Football was a regional sport for all but the top programs, and the rivalry was intense among fans, from executive boardrooms to shop floors to convenience stores. It was called the game for "The Right To Live In The State."
The Ducks limped into the rivalry. Bobby Moore didn't play (thigh). FB Greg Herd and WR Johnny Kerr were injured in the 2nd quarter. Linebacker Bill Drake was tossed following a personal foul. The teams pitched an epic battle, judged by many as one of the best games they'd ever seen. There were six lead changes, four in the fourth quarter alone, with OSU finally taking the lead for good late in the 4th quarter on an option run by QB Bill Carlquist. Fouts couldn't pull off the two-minute drill to get the Ducks in position for a field goal.
OSU won 30-29.
Eight CW losses in a row. There was no doubt, in 1971, that OSU owned the state.
The aftermath
After the game, there was no pressure on Frei. Honest. Just ask the athletic director.

As far as I'm concerned, Jerry Frei has the same relationship at Oregon that John McKay has at USC.. This is one great man. We've come a long way in four years and it was obvious today.

— UO AD Norv Ritchey
Frei had the backing of his players, or most of them. Earlier in the week, WR Larry Battle had quit the team in a dispute over playing time. There had been rumors that Battle's roomie, Greg Herd, had quit the team as well. Herd shut down the talk. "I'd rather play for Jerry Frei than any other coach in the nation."
According to Herd, Frei was someone you could go in and talk to. "I'm not sure that white players can talk to Dee Andros, let alone any black players." Ouch.
So, Frei was apparently safe.. but the fans — in particular, Influential Boosters with Money — were grumbling. And it didn't take long for "Jerry Frei is our John McKay" to turn into "Coach Wanted."
The Influential Boosters with Money thought the offense was too conservative. They wanted heads to roll on the sideline. George Seifert took the brunt of the blame as the coach of the defensive backfield. The boosters, primarily aligned with the Portland chapter of the Oregon Club, wanted Frei to dump Seifert and, ideally, sack the entire remaining staff — except for offensive line coach Dick Enright — for gross acts of football incompetence. (Ron Stratten and John Robinson had already resigned for other positions at the close of the season.)
Here's a rundown of Frei's totally incompetent assistant coaches, and how they would eventually fare in their football careers:
George Seifert went on to win two Super Bowls with the 49ers, and had a 98-30 record as an NFL head coach.

John Marshall was employed as a defensive coach or coordinator in the NFL for over 30 years.

John Robinson won two national championships at USC.

Bruce Snyder spent 15 years as a Pac-10 head coach, at Cal and Arizona State.

Ron Stratten became head coach at Portland State, where he hired Mouse Davis.

Dick Enright ended his career as a high school coach in Southern California, where he was once suspended for illegally filming a competitor's football practice.
In the minds of the boosters, except for Enright, this was, clearly, a group of mush-brained slackers.
Convinced in their righteous cause, The Influential Boosters With Money took their case to the media, then as now the best way to tell your story without getting your hands dirty with it. The media — the Eugene Register-Guard and the Oregonian — did its job, reporting that Frei was under pressure to make staff changes.
Showing an unwillingness to capitulate to the insane rantings of idiot donors, Frei refused to sack his coaches for no damn good reason. When pushed, Frei pushed back. Ritchey called his bluff. But Frei didn't have much on the table, as he was on a one-year contract.
Miffed at the media speculation, hung out to dry by his boss, Frei resigned, sparing Ritchey the opportunity to run him through with the sword Ritchey had promised to take himself.
I reluctantly reached the conclusion that in the existing atmosphere of rumor and innuendo as printed in the newspapers, it would be impossible for me to effectively carry on in the manner which I felt necessary to make continuing progress with our program.

— Jerry Frei
Frei moved on to a long career as an assistant with the Denver Broncos, but did show up a few years later, in the midst of the death spiral, to hand out a few neeners.
In an oddly lucid moment for a student body president, UO student leader Iain More said that Ritchey "must have the courage to say to the alumnus who demand 'fire Frei or no money' 'keep your money.' Oregon does not seem to have arrived at that point yet." (Frei was merely 14 years or so ahead of his time.)
The timing couldn't have been worse for the school. Richey wasn't playing with a full budget, so — although several candidates were brought in for interviews, household names like Spike Hillstrom, Dave Levy, Carl Selmer and Darrel Mudra — they couldn't get any candidates who looked any better than what they already had on hand.
The job went to Dick Enright.
Ritchey gave Enright a four-year contract.. something he hadn't earned, and that Frei never received.
In '72 Enright went 4-7, and beat OSU 30-3 at Parker Stadium in a game that wasn't that close — the most memorable moment occurring when Oregon fans tore down one of the goalposts while two minutes remained in the game.
But you can't just win the CW once and survive.
In '73 Enright went 2-9, even beat the Huskies 58-0 and Cal 41-10, but somehow lost 17-14 to a horrid OSU team that had only won one game all year, in what the Register-Guard called "The Game of the Weak."
It was a good thing the UO athletic department wasn't taking signups for refunds. Skill and dexterity haven't kept pace with inflation in college athletics.

If you paid $8, then the wife has one coming. The next time she wants to buy an $8 potted plant, take it with a smile. Chances are, after all, the thing's alive.

— Blaine Newnham, Eugene Register-Guard
Once again, the boosters flexed their muscles. This time Ritchey didn't even pretend he was on the side of his coach. Oregon paid Enright $47,250 and said not to bother with the other two years after all. In a typically classy move, Enright learned he'd been sacked when he was called by a reporter for comment.
And, after another "exhaustive" search, Ritchey hired Don Read off Enright's supposedly incompetent football staff. The result: eight wins in three seasons.
After advocating for a return to one-platoon football while Don Read piloted the Hindenburg, and refusing to even comment while his other coaches were arrested for DUII and cavorting with cheerleaders, Ritchey apparently decided he'd done enough damage. He resigned as AD shortly after the infamous 0-5 home loss to San Jose State in 1975. Since he was tenured, he still had a job, and finished his career as assistant dean in the Oregon physical education department.
But the damage was done. The Suffering was well under way.
tagged

Dan Fouts,

Dick Enright,

Jerry Frei,

Norv Ritchey
in

Suffering